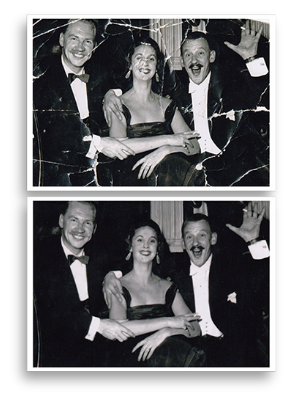 Phase one
This Picture has been in an album for nearly 100 years, when the picture was attempted to be removed the middle section was torn and remained in the album, leaving a large whole in the photograph.
Phix-Pix was asked to reassemble the image and restore the look of the original photograph.
Phase two
When the two parts were reassembled there was still missing pictorial information across the chest of the soldier.
Phix-Pix restored the final missing parts of the image
William Victor Stanford served in the Great War 1914-1918
in The Royal Middlesex Regiment Post Office Riffles
White Tie Event
This happy go lucky group posing for an event photographer, Obviously a close group of friends as this image has been much loved and worn over the years.
All the creases have been repaired by Phix-Pix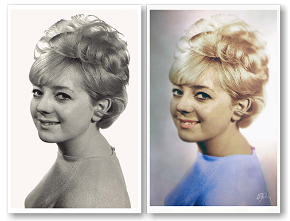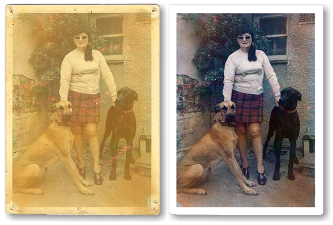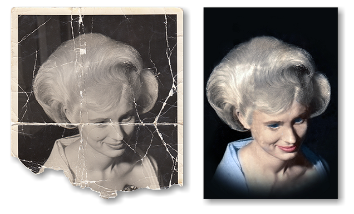 Monochrome print to Colour
This photograph from the Mid 1960s was taken in a portrait studio, The lady in the picture could not remember what colour the jumper was , but looking at the original black and white contrast it would have been a pastel: Pink,Lemon, Beige or Blue. I went with Blue to match her eyes.
Faded Colour Photo with Colour restored
The two Great Danes in the picture Left "Pippa" Right Kamba" were fine guard dogs and excellent family pets, Unfortunately they were both tragically lost in a house fire, so not many pictures of them which makes this one so important and worth restoring.
Portrait of a Hair Dresser
Taken in the late 1950s this picture has been well loved a carried in a wallet for over 50 years, worn and torn crease with partial picture missing, I set to restore the image and then colour the image.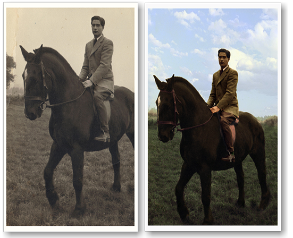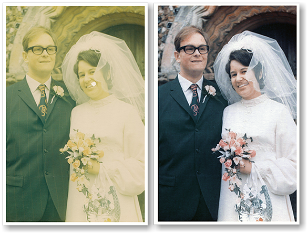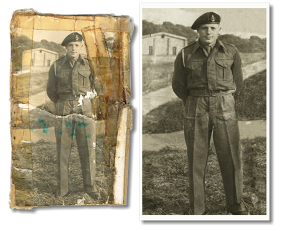 Man on a Horse original image cropped
Taken in the late 1950s this picture has been well loved. symbolising the love of a man for his horse an his passion for riding. The picture has been cropped to remove a second person from the picture, In doing so has meant the horse has lost a leg.
The mission was to replace the leg of this Welsh Cobb ( but NOT the Tail ) as this horse did not have one.
The picture was then coloured and the sky replace, then Printed to A2 Size canvas and hung above the fireplace in prime position.
Faded Wedding Picture
Taken in the late 1960s this picture has been well loved. and been place in prime position and unfortunately exposed to regular sunlight stripping it of some colour and contrast, Moisture has also got into the frame, making the picture stick to the glass so when it was removed from the frame the bride lost part of her smile.
I restored the colour and the smile which matched the smile on the customers face when she collect the restored picture.
My Dad in Army Uniform
National service as peacetime conscription was formulated by the National Service Act in 1948.
Healthy males between the age of 17 to 21 were expected to serve in the Armed forces for 18 months and remain on the reserve list for 4 years.
My mother carried this photo in her purse for several years and made repairs with sticky tape.
This was the first photo I ever restored and went on to become the blue-print for Phix-Pix photo and Graphic Solutions.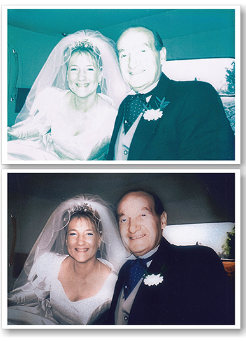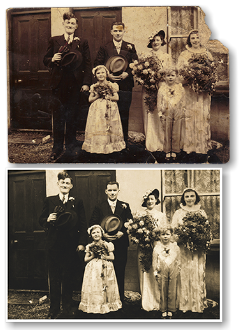 Bride and Father
On the way to the church in mid 1980s, An important picture as the daughter spends this quality moment with her father prior to being given away, this photo was much loved and out on display in pride of place But faded by sunlight. I have restored the colours and contrast. Then printed with nonfading ink on photographic paper.
Sisters
This picture taken in late 1950s lovingly carried in wallet or purse repaired by sticky tape and worn by the ravages of time.
Phix-Pix knows that the best loved picture gets the most damage. That's where we come in to repair the creases and tares remove the sticky tape and replace missing portions of the photograph.
Welsh wedding photograph circa 1939
Back in the day a wedding photograph would have been rare if a photographer was booked there would not have taken many photographs.
so the ones that were taken would have been special. The picture has had a lot of damage and missing section effecting the net curtains and bridesmaids face.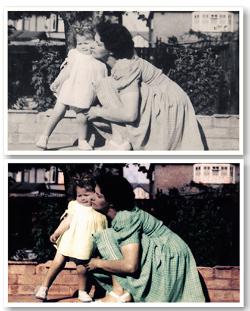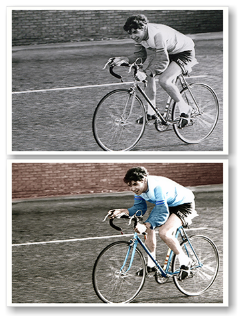 Mother and Daughter
This lovely image taken early 1950s of daughter getting a loving hug from her mother is one of a few photos remaining today of the girls mother.
I have coloured the image to enhance the memory.
Bernard White early 1960s
Pictures of Bernard competitively cycling, original photographs were monochrome Bernard requested them to be coloured in!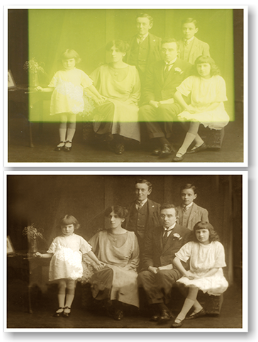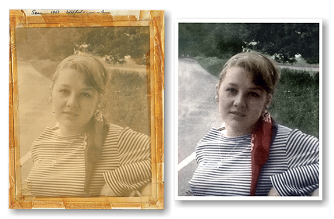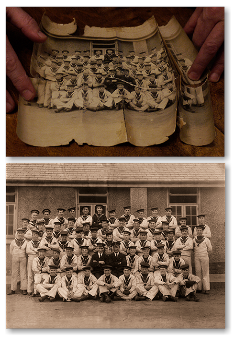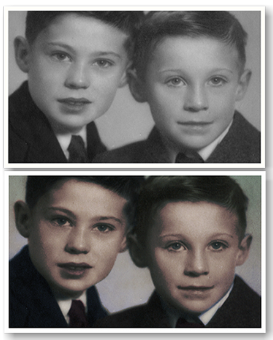 Edwardian Family Portrait
This picture of an Edwardian family taken circa 1917 taken by a professional photographer of the day who took time to compose the picture using the rule of thirds.
This photograph as been reproduced and printed on a Laser Jet printer on mock photo quality paper, then displayed in a frame with a smaller mount, the green area has been exposed to constant sunlight which has bleached the area removing some of the colours. I replaced the colours of the effected area.
HMS Ganges
(shore establishment)
Shotley, Sufolk early 1900s
This class photograph of trainees at HMS Ganges Royal Navy Training Establishment.
Over a hundred years old this photograph as well as being torn and creased was also stored rolled up in a cardboard tube, dry and brittle it could not eve lay flat for scanning.
Using a variety of process I managed to restore the image to its original glory.
Brothers
This picture taken circa 1950s capturing a Brothers taken in a photographic studio.
Young lady Portrait
This classic pose for a candid snap taken on a day out rambling.
Has become a family favourite capturing youth. The way the young lady is staring into the camera would suggest a love for the person taking the photo, long before modern posses for selfies and glamour shots.
The challenge here was to incorporate colour and enhance the photograph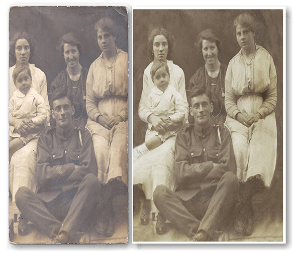 Soldier with family
This Picture of a soldier either returning home or leaving his family for the great war 1914-1918.
The original was a 6x4 ratio but the customer wanted a 10x8 print, rather than crop the image I drew in the panels either side to build the photo for printing.
During the first and second world war the common trend was to take pictures before leaving for the front, for a soldier take with them and also to leave a copy with their wives or sweethearts.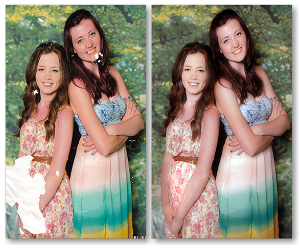 Sisters picture taken on a Cruise
This picture taken on a cruise taken by a professional photographer has been displayed in pride of place on a mantle, unfortunately moisture has got into the frame sticking parts of the image to the glass when removed from the frame caused damage to the photograph.
Using a variety of processes, Phix-Pix has amalgamated all the damages sections and piece the image seamlessly back together.
Father and Son
Snap photo on front porch of the house The original Photo was monochrome (black and white) the request was to give the image a hint of colour to enhance the royal blue and brass buttons of this smart British Naval Uniform.
Mother and Daughter
This picture taken circa 1970s capturing a Mother attending to her Daughter while she looks on, this picture is intriguing as the young girl seems to be looking into mid space either looking at a TV or perhaps visually impaired. The photo has been repaired and missing parts replaced.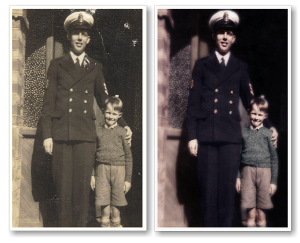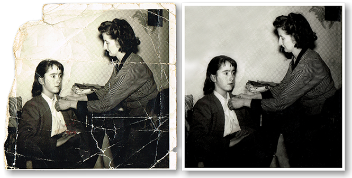 "The youngest picture of you is actually the oldest picture of you".
We at Phix-Pix believe that as we go through life creating magical moments turning them into memories. The journey is often documented by photographs immortalising our youth, special occasions, relatives, pets all preserved in our treasured album. But there is always that one photograph that stands out from the rest that has been loved so much it is now worn and torn and patched with sticky tape or faded by sunlight. This is the photograph that symbolises that loved one, and now its time to give that image a bit of care and restoration. Using the very latest in digital imaging and scanning techniques,
Phix-Pix offer a vast range of professional photo restoration and manipulation services for colour and black and white prints, negatives and slides of any size
An ideal service for family and ancestry projects.
Making your memories a present.
Bring in your photo, we will scan and let you take away the original
whilst we restore your image.
 Dust and scratch removal
 Rip, tear and crease removal
 Stain, mould, dirt spots and water damage removal
 Pen, paint and biro removal
 Correction of colour casts
 Repair faded photographs
 Hand-colour black and white and sepia photos
 Remove objects, people and backgrounds
 Combining people from multiple photographs to one photograph
 Air brushing faces
 Colour and sepia to black and white conversion
 Rebuild missing sections of damaged photographs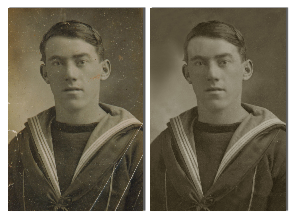 Harold Miller
Born 1895 died of War Woods in 1940 (J.12179)
This photo taken in a studio, Popular in the day before going off to war to leave photos with loved ones and sweethearts. Has had a lot of signs of love as it has been handled a lot over the last 80 years. Phix-Pix has restored the image to the day it was taken.


Employees of Brickwood and Co ltd 8th March 1925
Registered as Brickwood & Co. Ltd. 1891. Catherine Row, Portsea, established in 1845, John and Arthur Brickwood built the brewery by purchasing and amalgamating other breweries along their way, Finally settling into one large brewery in Portsea, as part of the brewing process, I remember that at least once a month they would release the smell of the hops into the air the strong fragrance would linger in Portsea for at least 24 hrs no washing was put out that day!
This photo taken of approx 200 Employees of Brickwood's all in their Sunday best, in the centre is Bill Hallin 1911-1982. who worked there from the age of 14, (On restoration it was requested that the writing on the picture pointing to Bill NOT BE REMOVED)
Bill was the youngest employee at this time he would often take the role of company mascot.
Bill work at the brewery for most of his life. Retiring around the same time that Brickwoods brewery was sold to Whitbreads in 1974.
Scroll over to magnify detail or click on image to enlarge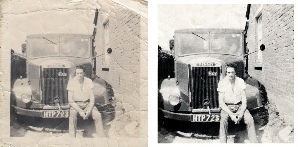 Harry with Dennis
This is harry with his firs Lorry rig made by Dennis
In the 1960,s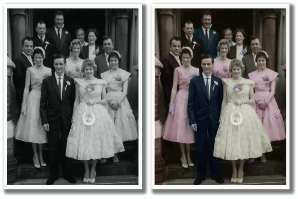 Diane & Johnny
Wedding day at Portsmouth Registry office 1958.
Original picture in Monochrome coloured by Phix-Pix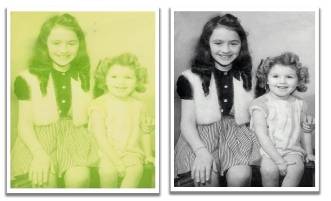 Sisters
The original picture was so loved on display in pride of place unfortunately damaged by direct contact to sun light bleaching the tones from the picture The original although black and white was printed with RGB Red,Green and Blue ink, the sun stripped the Blue and Red leaving a Green image
Original picture in Monochrome restored by Phix-Pix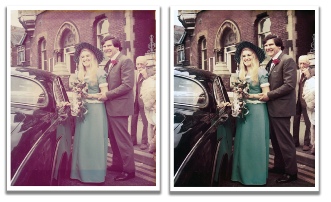 Newly Married Couple 1975
Portsmouth registry office Circa 1975
Faded Colours restored by Phix-Pix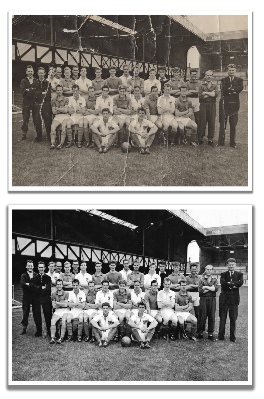 Portsmouth FC Circa 1957
Picture restored for the late Ken Johnson who played for PFC at that time.
Creases and contrast restored by Phix-Pix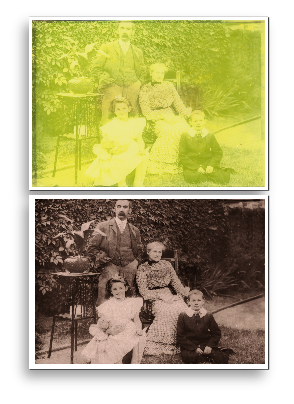 Family in the Garden
This family in the garden taken circa 1915 are proud of their Aspidistra to have it in the photo, in the original faded photo you can hardly see the young girl holding a baby. Restored by Phix-Pix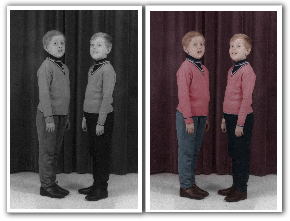 Arthur and Quentin age 10 (1972)
Taken in a studio in Portsmouth original Black an white Colourised by Phix-Pix
Arthur (left) Quentin (right).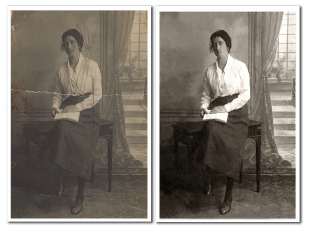 Annie Roche Circa 1922
This picture of Annie was taken in a studio circa 1922 and 100 years later brought into Phix-Pix for restoration as some time over the last 100 years this been scribbled on or and otherwise distressed by time.
Restored by Phix-Pix photo and Graphic Solutions.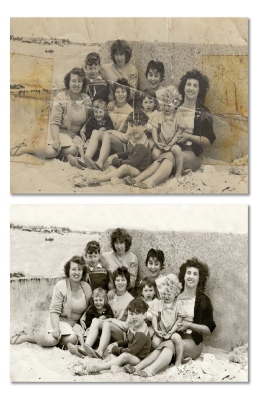 Southey & Peach family on Hayling Beach Circa 1959
This photo has been well loved and repaired by Sticky tape, Phix-Pix has restored the image to it's former glory.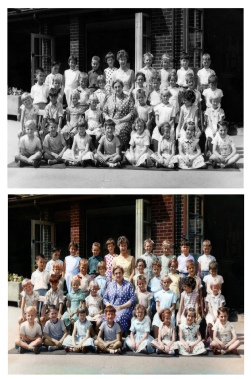 Meon Road Infants School Portsmouth Circa 1957
This Picture has brought back memories for over 35 people each person in this picture has been individually restored and coloured for maximum effect. With some artistic licence by Phix-Pix when deciding on what colours.
https://meoninfantschool.org.uk/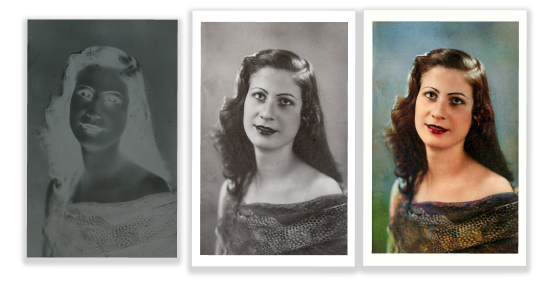 Gina Studio Photograph circa 1945
Negative of Gina taken in 1945 brought into Phix-Pix for restoration and Colouring.
We digitised the negative and converted to a positive.
We then converted to colour. This is a fascinating photo as although the photograph looks like a professional image taken in a posh studio, it is rare to give the client the negative, so possibly taken by a close friend or family member. Which also explains why Gina is looking at the photographer rather than the lens of the camera, in addition in early photography it was considered to confrontational for a lady to look directly into the lens. So perhaps the was deliberate.
Another reason could be that if taken in the studio with a flash, a photographer would fix a fake bird to the flash, and as the took the photo they would say "WATCH THE BIRDIE" as they fired the flash above the camera, which as well as lighting the subject would also generate a whitening in the pupils of the subject as we see here.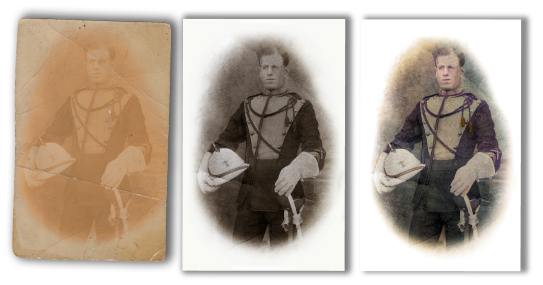 Ezra John Percy Smith Circa 1920
Original image (left) brought into Phix-Pix for some gentle restoration. Image over 100 years old of Ezra John Percy Smith in his uniform of the 1921st Lancers. Ezra Died in 1965 aged 77

Day : 077 32 699 450
Evening: 023 92 86 59 59
Email: studio@phix-pix.com




Phix-Pix Studio Opening Times
Monday
Tuesday
Wednesday
Thursday
Friday
Saturday
Sunday
Appointments available outside of studio Hours
9.00am - 5.00pm
9.00am - 5.00pm
9.00am - 5.00pm
9.00am - 5.00pm
9.00am - 5.00pm
9.00am - 4.30pm
Closed